Lawyer Vietnam Law Firm has a team of Vietnamese divorce lawyers who can assist and help you all your divorce matters in Vietnam.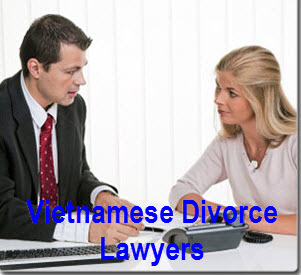 Vietnamese Divorce Lawyers
Divorce is legally referred to as dissolution of marriage in Vietnam, a divorce is the termination of a marriage by a legal proceeding or in a court.
If you are considering divorce, you're probably confused and concerned about the future. Divorce is not easy. In fact, it can be one of the most emotionally draining experiences you'll ever go through. Fortunately, you don't have to sort it out alone. A Vietnamese divorce lawyers can explain your rights and your options and help you make good decisions right from the beginning of your divorce case.
Not only does you have to go through the difficulty of splitting assets and the pain of a break in the relationship, but if children are in the picture, their emotions come into play as well. Whether the split is a mutual decision or painful for one person in particular, the steps that need to be taken can be lengthy and stressful, especially if one person is unwilling to cooperate.
The divorce is a huge hardship as it is, but Vietnamese divorce lawyers can make it easier for you. Vietnamese divorce lawyers strive to make the divorce process as smooth and hassle-free as possible for everyone. Vietnamese featured divorce lawyers will work day and night to make sure that everyone is treated with respect and is satisfied with the outcome.
Vietnamese divorce lawyers are specialists in the field. They will stand by your side throughout the entire case, should you have any questions or concerns about the process. You have to make numerous decisions during a break-up, such as who will get alimony, child support, and child visitation. Our Vietnamese divorce attorneys can take care of that for you, make the necessary phone calls and process the paperwork so that neither party has additional troubles to worry about in their case.
Even if your divorce is friendly and you've reached a mutual agreement with your spouse about custody and property, obtaining help from a professional as Vietnamese divorce lawyers is often a good idea. A divorce decree is a court order and it could affect you for the rest of your life. Mistakes can be hard or impossible to undo, so you want to make sure you get it right the first time. Let Vietnamese divorce lawyers help you, Click here.
Lawyer Vietnam Law Firm
Posted texts:
- Legal services on divorce in Vietnam, Click here