Hoang Duc Phu - Attorney at law

Managing Partner - Lawyer Vietnam LAW FIRM

Tel: +84.28. 35152871

Mobile: +84.918171098 (Whatsapp, Wechat, Zalo)

Fax: +84.28.35109321

Email: ducphu.hoang@lawyervn.net

LANGUAGES: English, Vietnamese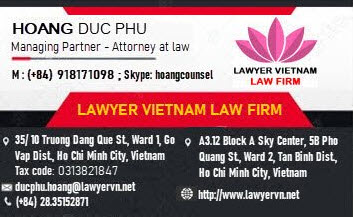 EXPERIENCE:
Mr. Hoang Duc Phu has over 17 years of practice experience in many fields accounting, sale management, corporate management, intenal control, internal audit, quality management -ISO, compliance, in house lawyer and legal services.
EXPERTISE
▶ Corporate and Commercial
▶ Investment and Project Management
▶ Merger and Acquisition (M&A), Project Transfer
▶ Taxation, Finance and Banking, Debt Restructuring
▶ Corporate Governance Services (CGS) and Business Model
▶ Trade, Construction, Property and Land Contracts
▶ Litigation
▶ Adoption
▶ Mediation
▶ Marriage and Family
QUALIFICATIONS AND MEMBERSHIP
▶ Bachelor of Arts i Economics – Ho Chi Minh City Economics University
▶ Master of Arts in Economics – ISS (Netherlands) &-Ho Chi Minh City Economics Universityy
▶ LL.B. - Ho Chi Minh City Law University, Vietnam.
▶ Certified Attorney at Laws by Judicial Academy
▶ Member of Ho Chi Minh City Bar
▶ Vietnam Bar Federation